I made a lucky escape yesterday, when Number One Son had been trick and treating with the Anstey coffee group crowd. I managed to forget my son's bedtime story book to the hotel room in Oslo, and I have failed to remember to e-mail them in order to get it back. I am afraid it will be 'Goldylocks' until I remember to print out some stories from the Internet. I thought that I had put it in the suitcase in the evening after skyping, but apparently I just placed it on the small dressing table in the room. Feeling a bit a failure and I rubbish Mom here about that. I do remember my notes for the lecture, but forget seasonal Moomins... Maybe I should check what is on 'Bad Mom' on the online channel of the Finnish tabloid Iltasanomat. It makes me always feel better.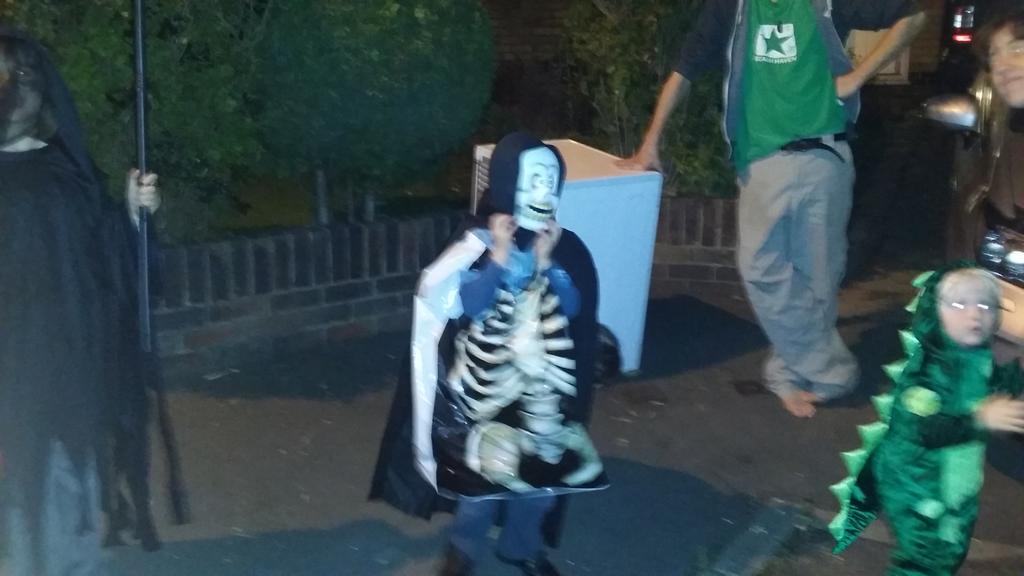 Number One Son (by Archaeologist Husband)
On the Halloween note, Archaeologist Husband explained how he and a number of other parents were frantically panic buying fancy dress and sweets for the children. Archaeologist Husband ended up being the only parent dressing up, but his enjoyment of steampunk is well known. Although I must say his attire resembling a long-haired progressive rock basist (I assume he was meant to be Captain Hook or similar) was hilarious. That wig will have further use...
After a long break I have had time to read Facebook - partly it has turned out to be the best place to contact certain people - and I noticed that apart from half-term trips, we had a serious amount of pumpkins around. Number One Son got his pumpkin already at the beginning of the week. It is interesting how this American cultural enculturation takes place. Number One Son self started to talk about Halloween party: it is something from the school, but not necessarily intentional. However, who would not like a bit of light inside a pumpkin in the darkness. Tonight Sweden celebrates Helgondag, but is has been raining all night. In England it is the Saturday for the early bonfire night fireworks. Guy Fawkes comes early, but I am afraid my 'celebrations' contain washing laundry and packing...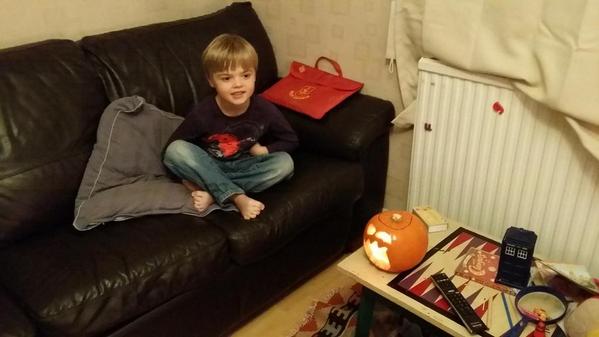 Number One Son plus the first pumpkin (by Archaeologist Husband)